FLEECE FPE-593-2G-63 2ND GEN SWAP TURBO KIT WITH S463 TURBO
Regular price $2,176.50 Sale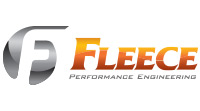 The Fleece FPE-593-2G-63 2nd Gen Swap Turbo Kit with S463 Turbo provides you with a solution to the hassle of finding all the misc. parts to do a "2nd Gen Swap" on your 2003-2007 Dodge 5.9L Cummins. All you need to do is select a T4-Flanged 2nd Gen Manifold. The 2nd Gen Dodge (1998.5-2002) features a center mounted turbo with a "divided" manifold. The dividided manifold capitalizes on the individual cylinder pulses to greatly increase spool-up and driving characteristics with a properly matched turbocharger. This combined kit with the Fleece S463 Turbocharger will make an excellent turbo setup capable of up to 650+HP! 
Bigger is not always better! The S463 is a great place to start for any sub 700 RWHP application. With a smaller compressor and turbine package, matched with the .90 turbine housing, the S463 offers great spool up and driving characteristics, without sacrificing reliability. The robust S400 chassis has all the big features it needs for long term reliable power delivery. The S463 is Fleece Performance's "GO TO" turbo for any 5.9 Common Rail Cummins with mild fueling upgrades that still needs to work for a living. Well rounded for day to day commuter driving, and better suited for heavier towing applications than some of the larger alternatives. Turbine housing is T4 .90 A/R Divided which comes with the standard Flat "V" S400 outlet flange. Exhaust manifold not included.
Features:
Great For Towing & Daily Driving

Fleece S463/83 Turbocharger

For Sub-700HP Levels
Kit Includes: FPE ManTake 5" Intake Setup & Filter, S400 Discharge Adapter with Charge Pipe, Boots, & Clamps, FPE Cummins Turbo Feed Line & Turbo Drain Line Kit, T4 Turbine Flange Studs & Gasket, Cummins Exhaust Manifold Gaskets, FPE Flat-V 2nd Gen Stainless Steel Downpipe with Clamps
Note: This kit requires the use of a T4 2nd Gen (1998.5-2002) Dodge Exhaust Manifold.
Not available for sale in the state of California
Click here to read Emissions Notice
.